Hand Poured in the San Juan Islands
Inspired by the lush forests of the Pacific Northwest and calming waters of the Salish Seas, our candle line is proudly all-natural. Scented with unique blends of pure, therapeutic-grade essential oils and blended with non-toxic soy wax, you can enjoy your candle with the peace of mind that it is clean burning. Each candle is poured by hand with care and love, and we hope you enjoy!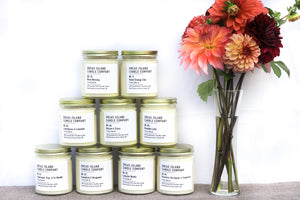 Treat yourself...
Customers love our 9 oz.  Signature Jar candles. They provide an ample 40-45 hour burn time, and in addition to that the clear glass jar also lets out the soothing glow of the candle flame the entire time, keeping your space calm and relaxed...perfect for chilly days and long nights!
Shop Signature Jars